What you will receive with your new puppy.
Von Der Schotterstrasse Puppies!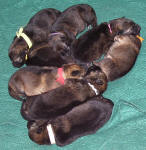 ~We offer Limited AKC Registration @ $1,000.00 for Pets and Non-Breeding Puppy Buyers
All Puppies will come with Microchip, Vaccinations & Worming with schedule. All puppies will be properly socialized. AKC Limited Registration Papers
~Full AKC Registration @ $1,500.00 For Pets, Working, and Breeding Puppy Buyers which comes with the package below...
When you purchase a puppy with "Full" Registration from Von Der Schotterstrasse you will receive...
1. A contract which includes hip/health guarantee.
2. Pedigree information.
3. AKC Full registration papers.
4. Health record.
5. Puppies will have first immunizations.
6. Puppies will be wormed
7. Dog food samples, and nutrition info.
8. Your puppy will be microchipped & you will receive the microchip number, any paperwork & tags.
9. Photos of parents.
10. Any other information we have on parents, grandparents, etc...
11. A puppy packet with information.
12. On line Videos with information similar to my Puppy Classes.
13. On line information that is password protected & only for VDS customers.
14. Training discounts in form of coupons for Precision K-9 Services.
15. All puppies will be properly socialized.