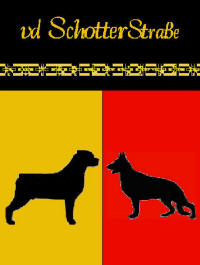 German Shepherd
Coat of a GSD - Normal Coat, Long Coat, Close or Mole Coat & Plush or "long stockhair". There are also various coat colors.
Von Der Schotterstrasse German Shepherds, have normal German Shepherd Dog Coats, easier to maintain. Better for the working dog. Coat colors - We may breed various coat colors and patterns such as Black, Sable, Bicolor, Saddle - Black and Red, Black and Tan.
Von Der Schotterstrasse Shepherds are of normal size as defined by the German breed standard. Our dogs are for working and the medium or normal size shepherd is better for the work.
Example


German V rated Males American Show
European lines have had more emphasis on working abilities, less rear angulation and less of a slope from the wither to the croup. And their temperament is more correct.

American lines have a severe angulation, & can be unbalanced. Also can be nervous, and spooky.
Some people (European lines) say when they stack their dog for show it looks like it's back is sloped, but it's straight when not stacked. But you can see with some dogs even when it isn't stacked it has a bit of a slope. Unlike a dog with a straighter back. IMO So I don't agree with that. We generally choose more working lines over more show lines in Shepherds.
In Germany, the hips must be x-rayed, and the German breeding stock is required to pass minimum standards for both conformation and working ability, so dogs from German lines rarely lack intelligence and often have very sound temperaments .
In America, any two AKC registered dogs can be bred. And these puppies can be registered. It does not matter if the breeding dogs are dysplastic, or have unsound temperaments. Not to mention undescended testicles, bad cartilage, poor pigment etc...
Von der Schotterstrasse Dogs are from working lines. Though we breed for working, and conformation such as proper structure, good cartilage, & pigment. Some cosmetic things makes no difference in the working dog, but we strive to produce dogs with correct conformation.